WOW MOM

is standing by Greek families

IASO, the largest private maternity hospital in Greece, with more than 11,000 childbirths a year, is aiming to stand by Greek families and assist in reducing the population decline. It has joined forces with companies that share the same vision. It secures privileges for new and expectant mothers who have either undergone prenatal screening at the Fetal Medicine Department or have given birth at IASO.

This way, it supports all the families who place their trust in IASO during the most important moment of their lives!

FIND OUT HOW TO JOIN
Why Wow Mom
Wow Mom is a revolutionary program by IASO, which was created to bring Greek families closer to major companies trading in products and services that meet their needs in the first 2 years after having a baby. As the largest private Maternity and Gynecology Hospital in Europe, but also the largest private hospital in Greece for mothers, women men and children, IASO acts as a link. It creates a unique program for Greek standards, which will be continuously enriched to meet all the needs of families, standing by expectant mothers from the moment they become pregnant.

Program benefits:
REDUCTION IN POPULATION DECLINE
Population decline is a major issue of our era. A program that provides significant benefits and privileges, directly linked to the needs of a household that welcomes a new member, is a strong incentive for a couple to decide to have a child.
INITIAL NEEDS
From the moment a couple finds out that they are having a baby, they have to manage a series of new needs that arise both from the arrival of the new member and for them. The list is endless, but quite enjoyable because Wow Mom can become a part of a unique experience.
LIFESTYLE
New parents must take care of themselves. Seeing to their wellbeing and meeting day-to-day needs makes their life easier, puts their concerns to rest and fills them with joy, which greatly benefits the prosperity of the whole family. Wow Mom takes care of many of the aspects of their new way of life.
HEALTH PRIVILEGES
Through Wow Mom you gain access to a series of health privileges for the whole family. At IASO Maternity / Gynecology Clinic, IASO General Clinic and IASO Children's Hospital, you enjoy privileges for services such as check-ups, consultations with all specialties, diagnostic and lab tests, hospitalization fees, etc.
What you gain from Wow Mom
Through the IASO Wow Mom program, you will have access to unique offers and special  benefits that keep being updated and enriched continuously to meet all your needs.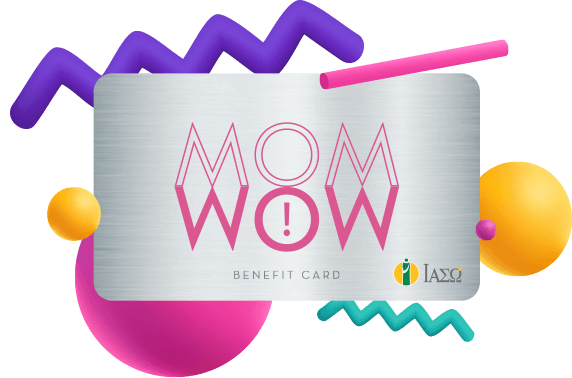 Privileges at partner retailers
The privileges offered by partner retailers cover a wide range of products and services that have been designed based on your needs! They will keep being updated, so you may benefit as best possible.